The Löw-Beer Villa Brno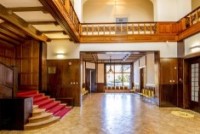 The Löw-Beer Villa is the youngest branch of the Museum of the Brno Region. The villa was built at the start of the 20th century by the Brno textile manufacturer Moritz Fuhrmann. Between 1913 and 1939 it belonged to the Jewish industrialist Alfred Löw-Beer, after whom it got its present name.
In the late 1920s Alfred Löw-Beer gifted upper part of the garden of Löw-Beer Villa to his daughter Greta. Together with her husband Fritz Tugendhat, she built between 1929 and 1930 on the donated land a family house, the well-known Villa Tugendhat (a UNESCO world heritage site).
After 1939, the Löw-Beer Villa was confiscated from its Jewish owners. During the occupation of the Czech lands it served as an office for the German secret police.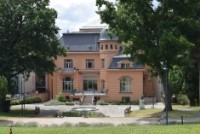 After 1945, a national administration was established over the building, and it eventually became the property of the Czechoslovakian state. For the next few decades, the villa served as a Youth Home for secondary school children.
After the closure of the Youth Home in 2012, the owner of the villa, the South Moravian Region, decided to thoroughly reconstruct it, open it to the public, and subsequently use it for cultural purposes. Between 2013 and 2014, the villa underwent extensive reconstruction, which was funded by the South Moravian region and the European Union.
Currently, the villa houses a permanent exhibition entitled Jews in Moravia. the villa and its inhabitants, which presents Jewish history in the region from the earliest mentions to the present. The exposition is complemented by many regular short-term exhibitions in the villa, in its garden and in the Celnice Gallery.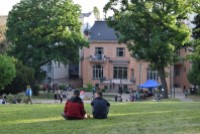 The large Löw-Beer Villa garden, which has been revitalized, is open to the public for free. In the garden is located the Celnice Gallery and Café Löw-Beer. From the garden there is free access to the neighbouring garden of Villa Tugendhat.
The Löw-Beer Villa hosts various cultural and social events throughout the year. There are professional conferences, seminars and workshops, suburban summer camps, educational programs for children and adults, specialized tours, concerts, theater performances, summer cinemas, and other activities. The villa can also be used for commercial events (seminars, wedding ceremonies, company presentations, and promotional and educational events).
Photos from the new exhibition Jews in Moravia. Villa and its inhabitants: